CHRONO MODERN "LEMANS" LUCKY NUMBER NATO
MDM.330.LMS.ST.45.WE-1
Famous race cars always carry legendary numbers – lucky numbers. And because everyone has their own individual lucky number, our Pit Stop watches let you choose your own number to be displayed on the watch dial. Any number from 1 to 99 is possible, and it will ensure that your watch is as unique and individual as the special moment you associate with your number.
Watch Specifications
1
screw-down pushers
Screw-down pushers confer an additional mechanical aspect to watches. In order to operate the stopwatch function, one has to first unscrew the collar and, then, close it again after stopping it.
2
See-through caseback
Our display back case uses a blue anti-reflective sapphire crystal and thus allow for an unobstructed view of the pulsating calibre. One has the feeling that the soul of the mechanical automatic movement can both be felt and seen. The watch is alive. Together with the possibility of the custom labelled rotor, each watch becomes a truly personal gift – even to oneself.
3
ETA 7750 Movement
After the takeover by ETA, the Valjoux 7750 was re-named the calibre ETA 7750. This is quite possibly the most successful automatic chronograph movement of all time. The calibre stands out due to its high degree of accuracy and robustness. It has 25 stones, a ball bearing mounted rotor and a uni-directional winding mechanism. The 7750 has a 1/8-second counter, a 30-minute counter, a 12-hour counter, 28,800 half oscillations per minute and has a power reserve of ca. 44 hours. The loss of accuracy is 1-6 seconds per day. Movement revisions are recommended every 3 to 8 years
TOP Execution
Chronograph mechanism with cams
2 push buttons
Self-winding mechanism with ball bearing
Hours, minutes, small second
Stop second device
Regulator system ETACHRON and regulator corrector
28.800 vibrations per hour; 4 Hz
Chronograph 60 seconds
30 minutes and 12 hours counters
Date and day, corrector
25 Jewels
4
Stainless Steel
Not all steels are created equal. We use 316L stainless steel; one of the hardest premium steels in the world. In addition to its hardness and resistance, this high-quality steel stands out because of its finish as well as it very fine silver hue. 316L steel has a significantly lower nickel emission than, for instance, 904L steel, which is also a high-strength steel alloy. This is, for us, a reason to favour 316L stainless steel.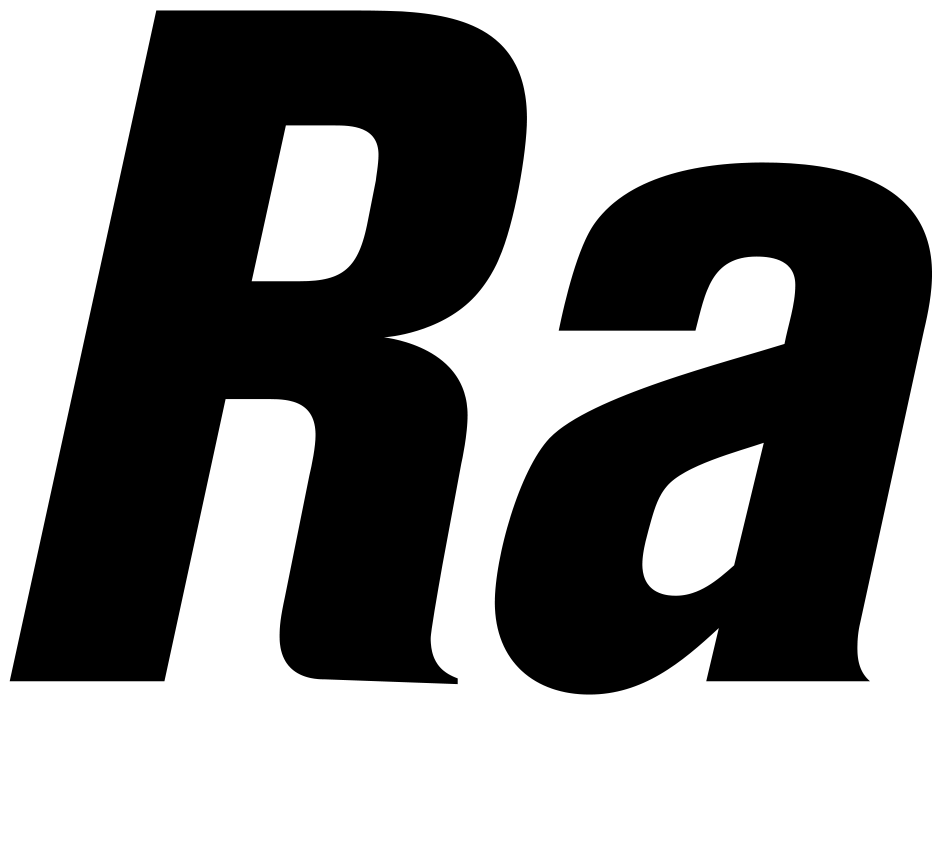 Racing
The adventurers of the race tracks and roads on asphalt, salt or sand have always searched for us, not us for them. This is because we have racing watches with "Lucky Numbers". No matter whether you once had a successful race number or your great idol did, whether you want to document your cylinder number or victories - you can eternalize it on the dial. And if that ever changes, we change our racing watches with it. Racing, after all.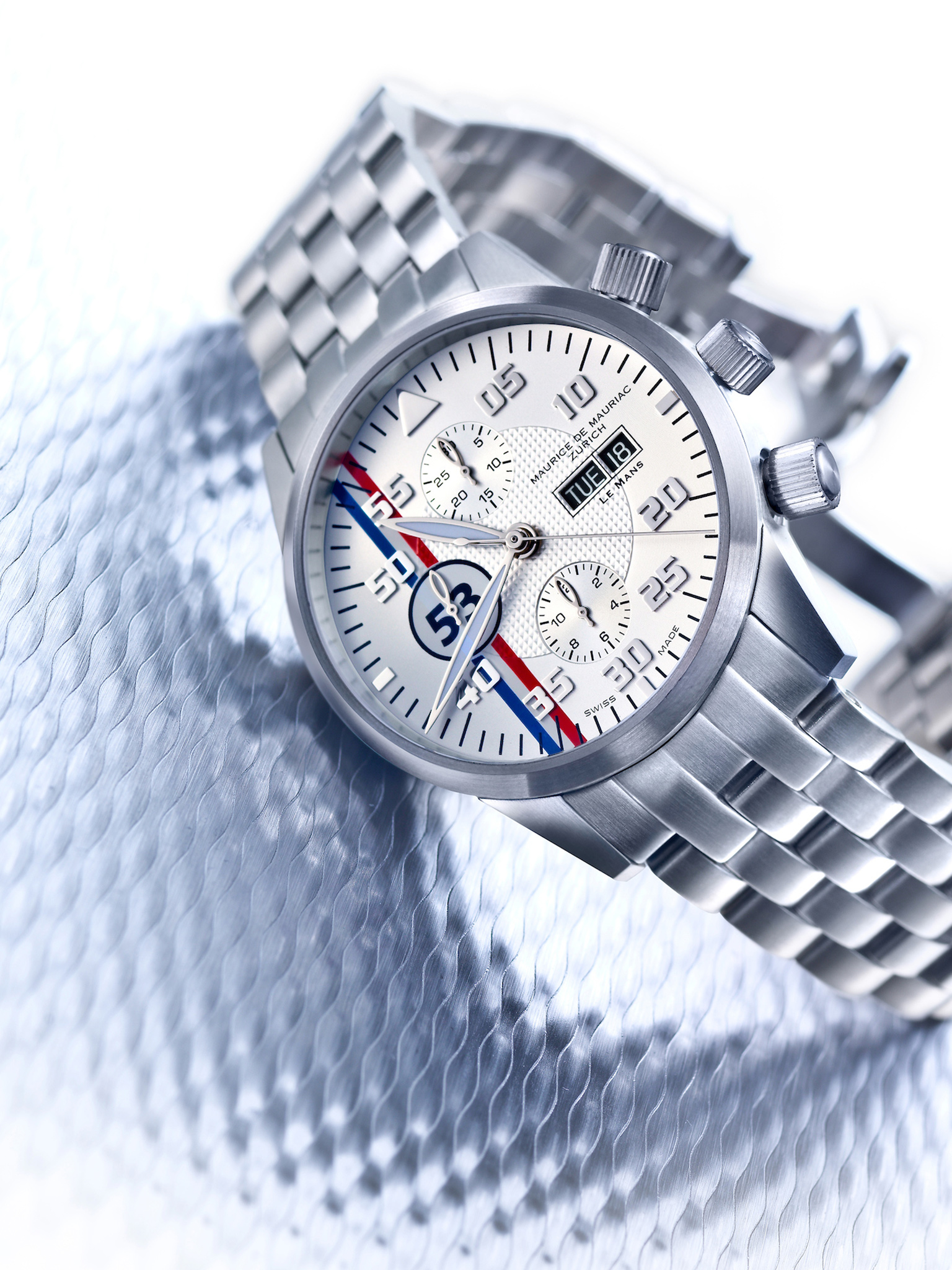 24 Stunde Le Mans
Everyone nowadays has 24 hours of Le Mans. This year we had 72 hours of Le Mans. The next generation of Dreifuss was at the circuit and experienced the atmosphere with all their senses. Massimo, Leonard and Masha absorbed the smells, sounds and images of the race for three twenty-four-hour sessions. After all, they are the ones who will essentially shape Pit Stop watches in the future. What a Pit Stop watch by Maurice de Mauriac must look like cannot be learned from books or films. Nor can you learn it only from the stories of your father. For that, you have to become part of the circuit, let yourself fall into the scenery, the people and the choreography of this special race. At some point, between the uniformity of the laps and the excitement of each metre, the tradition and the technical revolution, there comes a point when you feel the spirit of the race. Then and only then can you make Pit Stop watches that have all in them. Les Mans has now become part of the whole Dreifuss family. The spirit lives on and will find a new home in the next Pit Stop watch.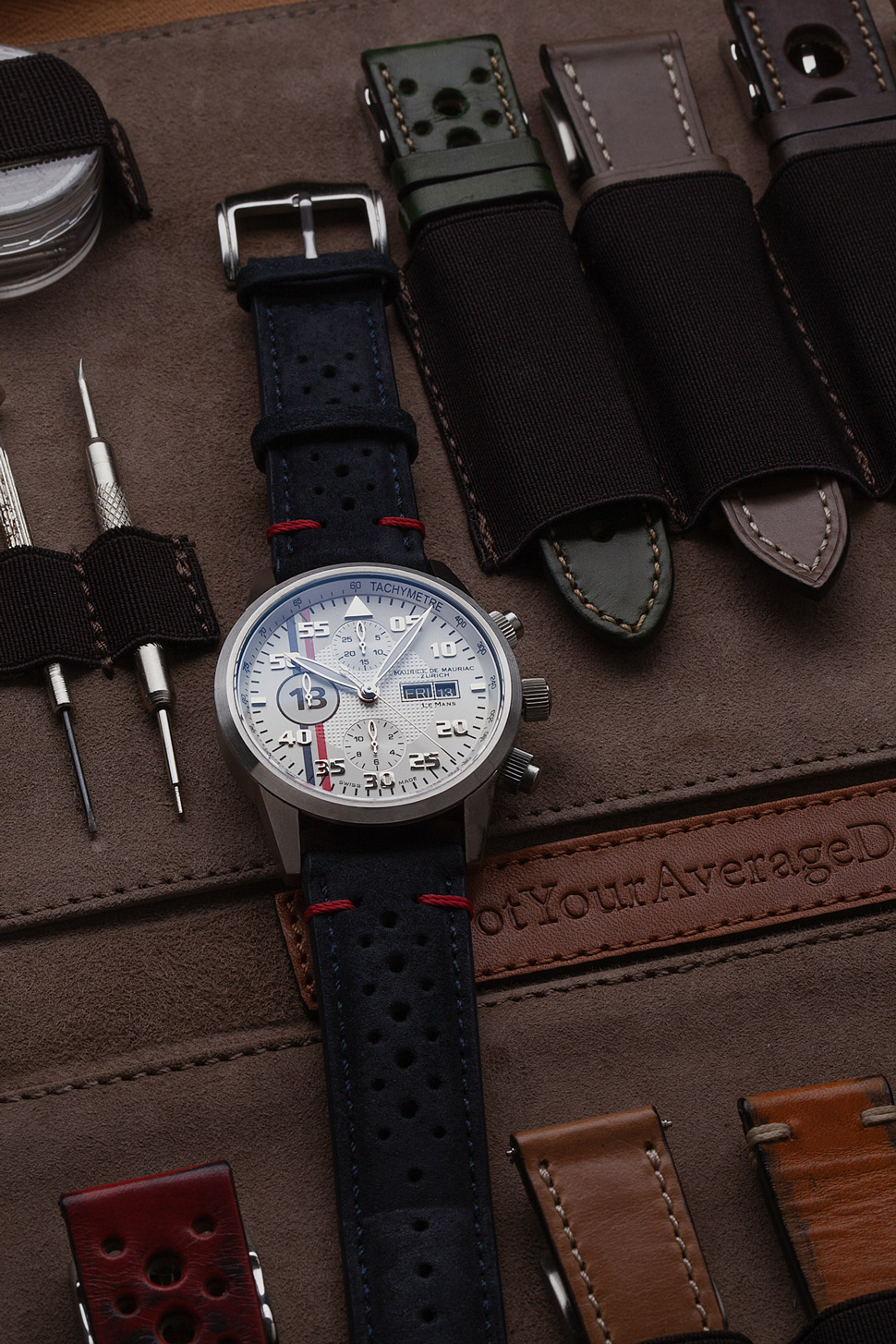 Lucky Number 13
One of my Maurice de Mauriac timepieces inspired one of the most surprising birthday gifts I ever had. A couple of friends noticed my Chrono Modern Pit Stop Le Mans customized with my lucky number '13' (also the date of my birthday) and combined to create a couple of bespoke items that really blew me away — André Sampaio, a friend who started a company called Watch Garage, chose a specific watch roll and a travel pouch for bracelets; then Francisco Bernardo provided the artwork inspired by the tricolor racing stripes and the '13' badge. Then a third friend joined in for the pictures: Pedro Santos.

The result came out great. And the pictures with the Chrono Modern Pit Stop Le Mans prove that. It truly was a special gift given by three special friends. Now I guess we will all — I, the three of them and the Mauriacs! — have to go to Le Mans with the watch, the roll and the pouch for even better pictures and a family photo!

Miguel Seabra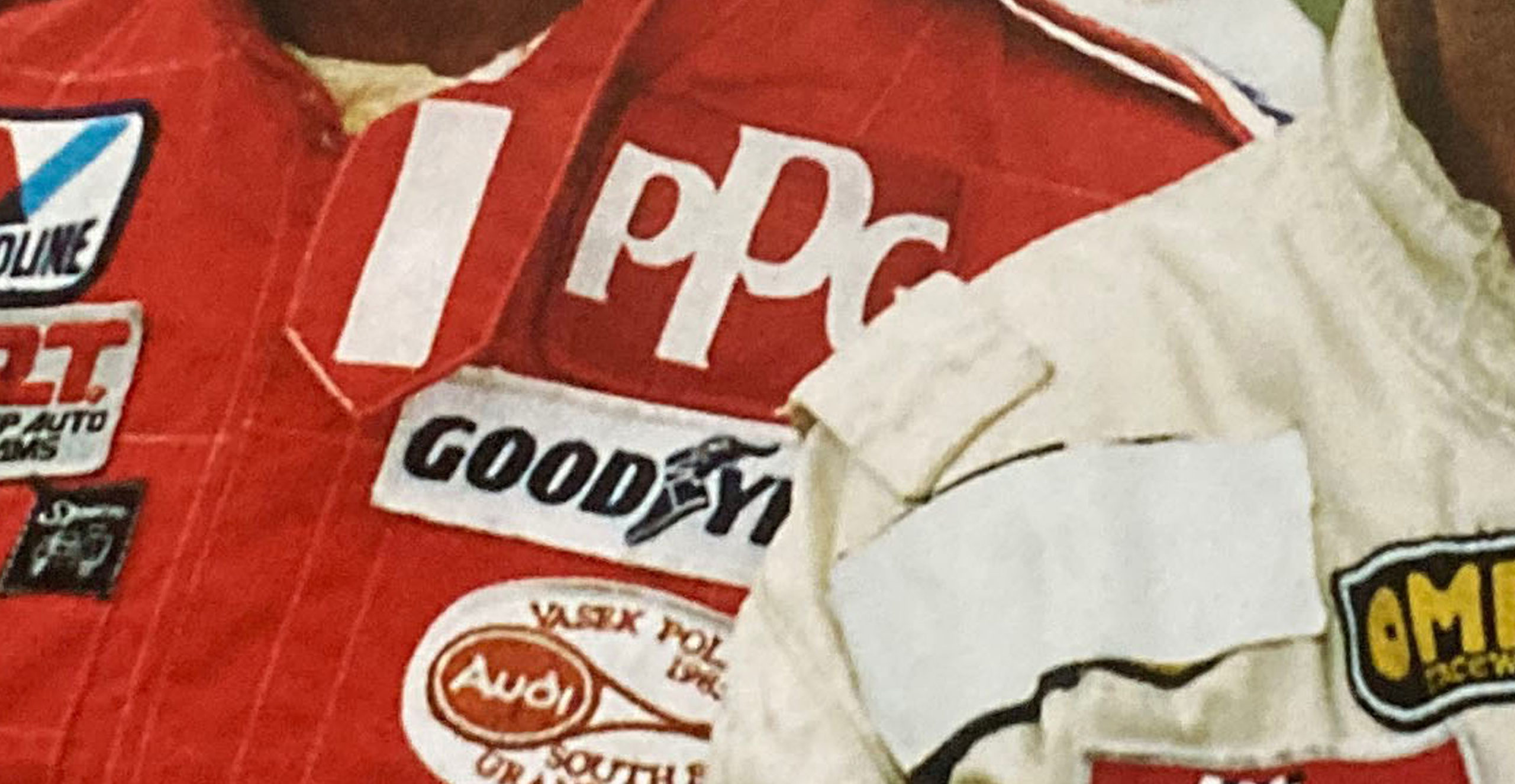 This could also interest you.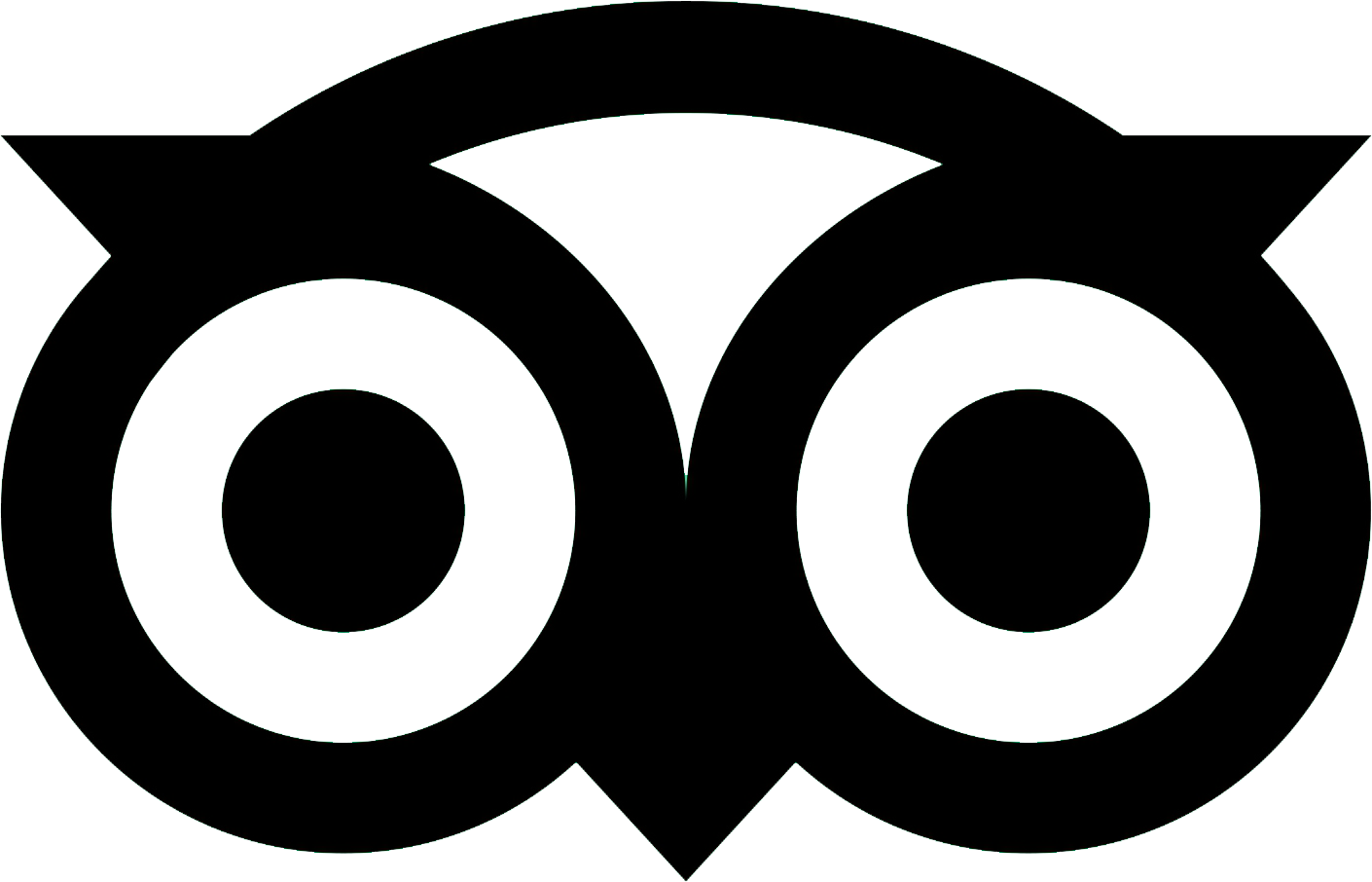 A super interesting and exceptional atelier; a family that lives and loves your craft and produces distinctive watches that have enormous character and exclusivity. Experience exclusivity!
I had a special wish and the Mauriacs made it possible. That is the quality of small but demanding companies.
Family business with heart and flair !
Creative, innovative, fresh and modern. For all those who love the special and unconventional. In addition, an extremely friendly reception, so that the visit to Tödistrasse 48 immediately became the highlight of the week. Our recommendation is: A MUST for everyone who loves the individual and unique ! Rating in Gault-Millau points: a smooth 20 !
Something of the most interesting in Zurich!
No industrial, sterile marketing of the usual pilot watch brands but personal advice with competence, heart, brain and humor.
The fascination for the watches noticeable and yet the contact with Leo and Massimo is as personal and direct as it can be.
Also, the selection of watch straps is infinitely large and there is something for every taste.
I bought a new watch strap for my IWC watch. Super selection and price. Very nice and courteous service. Thank you very much.
+ Zoom
Close